2019 - The Year in Review
January Served at Way of the Cross, Harlingen, Texas
February Served at Victory Camp. Alvin, Texas
March Served at Victory Camp, Alvin, Texas and Travelled back to Canada
April & May Muddled around Meadow Lake
June & July Worked near Edmonton, Helped with grandkids
August & September More Meadow Lake and a bit of travel
October New Grandchild!, a Tour of Maritimes Fall Foliage & Sonja's new book published
November & December Home in Canada
Planned for 2020? Fly to Nicaragua early in January, Return near end of March
December 1st we were still in Edmonton. After church we headed off to Leduc to do some Christmas at Canadian Tire. The item we wanted was on sale and the stores in Edmonton had none left. The Canadian Tire web site shows how much of an item is in stock and where it is the store. This comes in handy at times. If you know what you want and research ahead of time you can just walk in the door walk to the aisle where the item is, pick it up and head for the cash register.
We attended the annual church Christmas banquet which is one of the nice things with being home at this time of year. Probably doesn't compensate for the cold, but you take what joys you can get. Discovered you can, if you choose carefully, stay in ketosis after eating at a church banquet.
Thought about entitling this section, A year in review - no weddings and a bunch of funerals. At Bill's Celebration of life, on December 7th, I got talking to some old work acquaintances and we talked about the people we knew who had died this year and I was reminded I had lost five co-workers a couple of them who were close friends and the others at least friends. Most were older and to be expected, a couple were much younger. Not feeling sorry for myself, hey, I'm still alive and afaik healthy, but feeling a bit sad if I dwell on their departures and their family's losses.
One evening we braved the cold and attended a parents' night for the end of the season training for Kohen and Sasha in Urban Gymnastics. Go Ninjas!
Our car and truck both got dinged bigly by a hail storm that went through in August. As did a lot of vehicles in the area. The backlog of paintless repairs finally got short enough we could get a quote. I was hoping to get them repaired for under the deductible, but I was off by a significant factor and claims were submitted. The good news is that they both look great again, there is no no-claims penalty for hail claims, and the deductible gets shared between the vehicles since it was a single incident.
One evening Debbie texted and mentioned a band concert at the local high school. Off we went and joined a hundred other parents and grandparents to enjoy Christmas music from the bands of several junior high schools. These are the early years of band music for all of them so we enjoyed the kids and their enthusiasm rather than the skilled team work that will come with future practice. Oh, by the way, That's grandson, Kohen, in the back left corner playing the xylophone.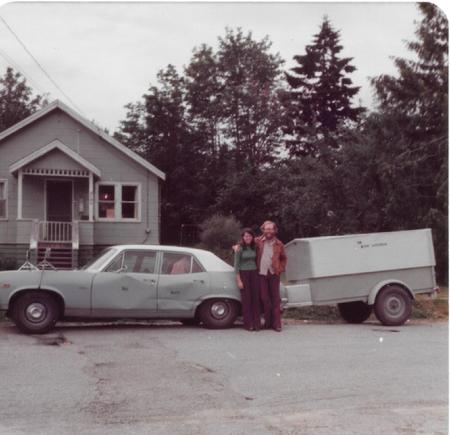 His & Hers Crunchmobile w/ Alton Airstream
When we met in 1975, Juanita had a 1969 Chevrolet Nova and I had a 1974 Celica. The paint on her Nova had baked off in the Arizona sun. A week before the wedding I backed up and buried a clothesline pole into the middle of the driver's door. Some months before that some hit and run driver had dinged the back door while Juanita was driving. His and Hers dents.
Before we were married, she bought a 1948 open utility trailer from a graduating University of Arizona. Her brother-in-law had started to add a top to the utility trailer. When I came to Arizona a few weeks before our wedding I finished the job. In our wedding ceremony she "endowed" me with all "her worldly goods" which we carried north to BC in the utility trailer. This picture was probably taken in 1976. I brush painted the car so it wouldn't rust in the BC rain and replaced the spray painted His and Hers on the door dents with a neater stenciled version. We fixed the utility trailer up for camping and stenciled the "Alton Airstream" on the side and "001" on the front. It looks a little droopy in this picture. Air-shocks fixed that problem shortly after the picture was taken.
Book Review - The Perfect Predator: A ...
"Doc says you're going to die" is the punchline for a crude adolescent joke. It's probably what I would say or, at least think, if faced with the situation in the Perfect Predator. The author gives an account of her heroic fight for a cure for her husband's illness without patting herself on the back. If somebody I am attached to has to rely on me to do what she did to help her husband they will die. That's not to sell myself short. I don't know anybody with her skillset or the level of persistence required.
The Perfect Predator was mentioned in an article about antibiotic resistance bacteria and microphage treatment for infections. The article was interesting enough that I forwarded it to a few people who might be interested. One replied that she and her husband had both read the book and found it really interesting. Onto the Lakeland site and added to list of holds and soon it showed up. Never would have guessed I would read a book about a disease straight through like a detective story, but I did. The next day Juanita started it and read it straight through like a detective story so it is not just my weirdness at work. Try it. You could very well find it as fascinating a story as we did. It is a page turner raising some serious issues while giving some hope for future.
Book Review - The Way I Heard It by Mike Rowe
I don't watch much television so I didn't know who Mike Rowe was when I heard him on a podcast plugging his book. Thus, I wasn't surprised to hear he started in opera and went onto the Home Shopping Channel plugging useless stuff in the middle of the night. In mentioning the book to a friend, he knew who Mike Rowe was from reality TV but was surprised to learn he had sung opera.
You'll learn a lot of stuff reading Mike's book, "The Way I Heard It". Each chapter is pretty much a standalone with some tie back to previous chapters, at times. Each starts out somewhat mysteriously and ends with an "and now you know the rest of the story" clincher. It is the type of book you could read in a couple of sittings as I did or put it on your nightstand and read a chapter every night or two. It might even make a good beach read – read a chapter, go do something and come back later and read another chapter, rinse, repeat.
December 23, some of us showed up at church and then drove off to carol at a couple of old folks' home, the local hospital and the home of a shut-in parishioner. There were a few good voices backed up by enthusiastic people of lesser talents. Not broadcast quality, but a lot of fun and seemed to be appreciated by the various audiences. At the end of the carolling we repaired to the church basement for some goodies, hot chocolate and some visiting.
Christmas With All of the Folks At (A) Home (in Meadow Lake)
This was the year we spent Christmas in Canada. Deborah and Ernest hosted the celebrations at their home south of Meadow Lake. Nick came back home to Edmonton from Pittsburgh where he is working on the construction of a Polyethylene Plant. He and Rebekah brought their clan to Meadow Lake. In addition to the carolling above, we attended a joint Christmas Eve service held with another local church. Christmas Eve, the kids opened their pj gifts and headed to bed with the admonition to "not get up a minute before 7 am". Juanita and I went to back home to our tiny house and vowed we would come over early on Christmas Day, but not a minute before 7 am.
Friday, Nick and Rebekah headed back to Edmonton to prepare for a game night with 35 guests on Saturday. Sunday, Nick went back to Pittsburgh.
Sort of a traditional Christmas along the lines of those I remember from my childhood.
Ernie and Kohen build a kick sleigh as part of a Junior Forest Wardens' project. They built it using a couple of old skis and some willow branches. It moves through the snow pretty easily and would be a handy way to carry a sitting person or a mid-sized load through the snow quickly with relative ease.
Copyright Paul W. Alton 2006 through 2022 All Rights Reserved
Pages on this site contain Amazon affiliate links
Amazon sells everything from soup to drones.
As an Amazon Associate i earn from qualifying purchases at no extra cost to you.